Buddy in Washington D.C. May 29, 1999 Event
Buddy's 60 year career in Jazz made him an obvious choice for emcee during the Dukes of Dixieland and Duke Ellington Orchestra's show out on the Mall between the Capitol and the Washington Monument. The audience and the band members showed immense pleasure in his historical anecdotes and his rendition of "Mood Indigo" along with the Ellington Orchestra. (Click photos to learn more.)

---
These are from Buddy's biggest fan, his wife, Joyce. Buddy playing with the excellent Swedish rhythm section during the March tour with Sweden's #1 clarinetist, Putte Wickman. It was so well received that another tour is being planned for November.
(Click on photos to enlarge.)
---
Buddy meets with a clarinetist fan from Japan. Sakaibara Masamitsu, a young clarinetist came from Japan to hear Buddy play at the new Jazz Corner Club at Hilton Head Island and exchange ideas about the clarinet.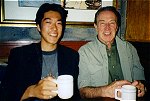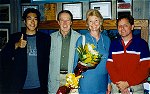 (Click pictures to enlarge)
---
Photos by Brian Faber. Used by permission. Says Brian, "The color photos were taken during N.A.J.E 1986 at Atlanta's downtown Ritz Carlton Hotel. There is one picture of Buddy and Louis Bellson listening to another group. The black white photos were taken at Atlanta's Colony Square Hotel later the same year, or perhaps sometime in 1987. The setting of the concert was not to the liking of hotel guests. The musicians were asked to leave, but fortunately found more conducive quarters at Georgia State University. They played some great music despite the ignominious event."




---